Get A Free Quote Today:
Quick & Simple Insurance
Commercial Insurance: Workers' Comp,
Commercial Auto, General Liability, & More!
This quick form will connect you with a specialist who will help get you the best rate! Or talk to an agent now:




What is Hazard Insurance?
Hazard Insurance protects property from disastrous events like fire, severe storms, hail, and other calamities. Hazard Insurance is not comprehensive: you'll need to purchase each specific event type to be compensated for a loss.
Unlike Catastrophe Insurance, Hazard Insurance refers to a specific portion of coverage within an existing policy that protects a physical structure. For small businesses, it is sometimes called Business Property Insurance and can be part of a commercial insurance policy.
What does Hazard
Insurance Cover?
The hazard portion of a business property coverage policy normally includes coverage for:
Theft
Hail
Lightning
Vandalism
Explosions
Fire damage
Civil unrest or rioting
Snow, sleet, or ice
Power surges
Businesses in areas with particular concerns should opt for a separate hazard policy. Some locales are more prone to earthquakes, flooding, or even terrorist attacks and damage from war. Such perils require separate policies, so owners in such volatile areas should consider adding the protection that Hazard Insurance affords.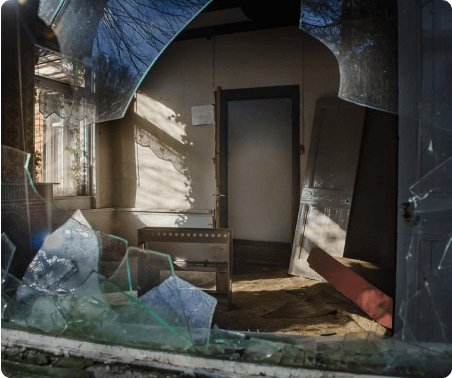 Separate Hazard

Insurance Policies
Many states that have higher-than-normal occurrences of certain dangers (like tornadoes, earthquakes, or floods) exclude coverage for those events. Business owners in such areas must buy hazard insurance separately.
For example, business insurance policies in Florida won't cover hurricanes or flooding. In the same way, Californian business owners will need to obtain a separate policy to cover earthquakes.
It may seem odd that insurance companies wouldn't cover events that are likely to happen in high-risk areas. The likelihood for the events is the very reason they don't include coverage unless you pay to add these hazards to your policy.
The Types of "Hazard"
Insurance to Consider
If you are in an area prone to these natural disasters you'll want to consider:
Flood Insurance:
Covers damage to your property that is caused by any sort of flooding (i.e. ice/snow melting, flash flooding, storm surge from hurricanes).
Earthquake Insurance:
Covers damage to your property from the effects of an earthquake, up to the limits of your policy.
Terrorism Insurance Coverage:
Similar coverage to that of property insurance for acts of terror.
When Are You Required to
Get Hazard Insurance?
Most lenders require small business owners to obtain property insurance coverage before they'll lend money. Banks want to ensure that their investment is protected in the event of a disaster.
The Small Business Association requires owners to have property coverage to qualify for the Paycheck Protection Program (PPP) loan. If you're a PPP loan recipient or are applying for the second round of funding, your policy must include hazard coverage.
How Much Does
Hazard Insurance Cost?
Several factors influence how much you'll need to pay for Hazard Insurance, including:
The property's age
Your preferred limits and coverage options
The property's value
Whether or not you choose full replacement cost
Consider a Business
Owners' Policy
Owners that need property insurance may benefit from purchasing a business owners' policy (BOP). BOPs include:
General Liability Insurance:
General liability coverage protects your business if a customer or their property is injured. It also protects you if you're accused of libel, slander, or advertising injury.
Business Interruption Insurance:
If your business suffers property damage and you cannot operate while it is being repaired, business interruption insurance can cover the cost of a temporary location to operate. It can also cover lost profits, payroll, taxes, and more.
A business owners' policy can be a more affordable way to cover your business. Our agents can help you assess your business insurance needs.
Get a Free Small Business Insurance Quote
At Foy & Associates, we work hard to help small and medium-sized businesses get insurance coverage that protects them and stays on-budget. We'll make the whole process quick and easy so you can get back to running your business. To get a quote, more information, or ask questions, fill out the form at the top of the page or call us at 800-433-5353.
Additional Business Insurance Coverages To Consider: Professional Liability Insurance, Workers' Compensation Insurance, Earthquake Insurance
I started a small consultation/training business about nine years ago. Debra at Trident has been invaluable in helping my business steadily grow from what started out as me with a few small clients, to what is now a cadre of trainers with major clients across the US and Canada. I like to think I am a success story, but the truth is I had a good idea and then surrounded myself with incredibly professional folks. Fortunately for me, Debra is one of those folks. She absolutely cares about my vision and is incredibly responsive to all of my insurance related needs. If you're looking for insurance, or perhaps considering changing agencies, I can wholeheartedly recommend Debra Jackson at the Trident Agency!
Eric R.
Burbank, CA
Always have great service from The Trident Agency for all of my insurance needs…from home to auto to earthquake to umbrella policies!! My one stop shop!! Best prices along with excellent service by answering all of my questions!!! I really sleep comfortable knowing that my family and home and my possessions are safe and secure through Debra and Travis. I even had Travis give me auto insurance for one day while sitting at AAA to purchase tags for my daughter's car that had the insurance lapse on. Trying to sell the vehicle, with expired tags is against the law. After becoming aware of that, Travis had done all necessary steps to get the tags in my hand and the vehicle sold, all within 2.5 hours! Exceptional service!!!!
Ken F.
Woodland Hills, CA
I have found that Debra Jackson and her agency Trident is a caring, client centered agency. They help their clients with issues relating to home and auto insurance as well as business insurance.
I highly recommend Debra and her staff
Barry C
Canoga Park, CA
foy insurance has been our broker for almost 10 years. They have saved us money on our E&O, GL, H&W and commercial policies almost every year. Customer services, quality products and reasonable pricing; they say you can't get all three at once; but Foy makes you feel like you did.
H.H
CEO
If you really want to protect your business, want someone who understands your industry, and if you want a broker that is there for you and will stand by your side during your claims process, you need to call jesse and his team.
D.R. Jr.
Owner
Prompt and professional. I quickly found out that their team knew my industry like no other. They quoted me for coverage that fit my needs and saved me thousands of dollars a year. Initially, I didn't want to switch my insurance because it felt like a hassle but I started to consider my previous insurance situation, my agent never even called me when I had a claim.
D.D.
Co-Owner
Their team knew our industry extremely well. Once they reviewed my coverage, they found many gaps in my current insurance. Now I have an insurance program that I know covers our business. Sleeping a lot better at night…
B.F.
President
Foy & Associates set me up with great insurance & great pricing. At the same time providing excellent customer service and professionalism
J.P.
Program Manager