Get A Free Quote Today:
Quick & Simple Insurance
Commercial Insurance: Workers' Comp,
Commercial Auto, General Liability, & More!
This quick form will connect you with a specialist who will help get you the best rate! Or talk to an agent now:




What is Commercial Auto Insurance?
Commercial auto insurance is essential for small business owners, especially contractors. Losses, liabilities, and lawsuits in the unfortunate event of an accident can easily be enough to bankrupt your business. To determine the policy that's right for your business, talk to our team of trained agents.
A commercial vehicle is any vehicle used for business purposes. That means commercial auto insurance—sometimes called business auto insurance, commercial vehicle insurance, or business car insurance —protects any vehicle used in the course of business.
What Vehicles are Covered Under
Commercial Auto Insurance?
From your personal vehicle used for making deliveries to a fleet of moving vans, commercial auto insurance covers a wide range of vehicles.
Food trucks
Cars
Vans
Pickup trucks
Refrigerator trucks
Box trucks
SUVs
Dump trucks
Catering trucks
Cargo vans
NOTE: Some companies require a separate policy for dump trucks and semi-trucks.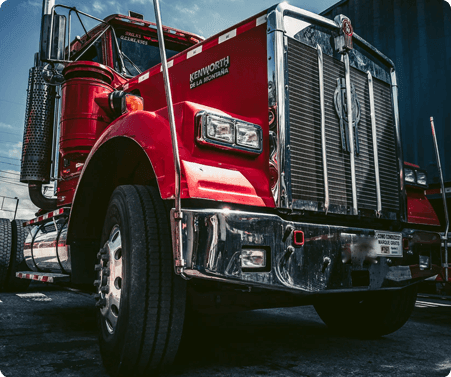 What Does Commercial

Auto Insurance Cover?
Your auto insurance coverage may include:
Auto liability: This is the most common auto coverage, and most states require it. Liability covers you personally when you are liable for damaging someone's car or injuring someone.
Third party bodily injury & property damage: If your vehicle is involved in an accident, this part of the policy covers their medical expenses, legal expenses if sued, loss of income, and funeral expenses. It also covers the damage to their vehicle (repair or replacement).
Personal Injury Protection: Pays for medical expenses and lost wages for both the insured and any passengers injured in an accident. If the worst should happen, it can also pay for funeral expenses. PIP pays whether the accident was your fault or not.
Comprehensive coverage: Pays for repairs or replacement if your vehicle is damaged or lost to theft, vandalism, or bad weather.
Collision coverage: Pays for repairs or replacement if you are at fault. If someone else caused the accident, then liability covers it.
Uninsured and underinsured motorist coverage: Most states require this coverage because it protects you if the person who caused the accident is uninsured, which, alarmingly, is 1 in 8 drivers!
Gap Insurance: Covers the difference of what you owe on a leased vehicle if it is totaled. This coverage is especially important for companies that let their employees use leased vehicles for company business.
Who Needs Commercial
Auto Insurance?
Many businesses should consider commercial auto insurance:
Businesses that use a truck or van to transport goods
Businesses that utilize employees' personal vehicles while on-the-job
Food truck or catering businesses
Contractors that carry equipment and tools in their vehicles
It's difficult to underestimate the potential cost of an accident. Medical expenses for you, your employees, and other motorists can be enough to sink a small business. Add in vehicle replacement and repair, lost work time, property damage, and the potential for lawsuits, and its easy to see why commercial auto insurance is a necessity.
How Much Does Commercial
Auto Insurance Cost?
Every business has different needs on a different scope for this type of coverage. A handyman will probably pay less than a large food-truck business. In general, owners tend to pay between $750 and $3000 dollars per vehicle.
Other Policies
to Consider
Check to see if any of these other auto-options might be necessary for your business:
Rideshare Insurance:
This special hybrid policy covers personal liability, collision, and damage insurance for those that participate in rideshare programs like Lyft or Uber.
Commercial Truck Insurance:
Many insurers require you to purchase a separate, customizable package to cover your particular big-rig.
Tow Truck Insurance:
This policy is tailored specifically to towers.
Fleet insurance:
Fleet insurance can save a business with several cars money because they won't need to pay for each vehicle separately.
Inland Marine Insurance:
This policy helps to cover items or attachments that aren't permanently attached to your vehicle.
Hired and non-hired auto insurance:
This policy covers rental vehicles and sometimes personal vehicles on company business.
What Do I Need to Obtain an
Auto Insurance Quote?
A little preparation will go a long way to make choosing and purchasing your policy quick and easy.
Have this information ready when you talk to an agent to expedite the process:
Business name and type (Sole Proprietorship, LLC, etc.)
Your filing requirements (state, Interstate, ICC or FHWA)
Employee driver information
Commercial auto classifications (private passenger, etc.)
Details about the vehicles you'd like to insure, including Vehicle Identification Numbers
Estimated range of operation and projected mileage
Get a Commercial Auto Insurance Quote
Let us help you protect your vehicles so you can focus on running your business. Foy & Associates, is committed to helping medium or small businesses manage risk by getting cheap quotes on the coverage you need. To get your competitive quote right away, just fill out the form at the top of the page! A specialist will connect with you soon to get you the best coverage at the best price.
Related Article: Commercial Auto Insurance Cost, Tow Truck Insurance, Boat Rental Insurance, Welding Insurance, Bobtail Insurance
I started a small consultation/training business about nine years ago. Debra at Trident has been invaluable in helping my business steadily grow from what started out as me with a few small clients, to what is now a cadre of trainers with major clients across the US and Canada. I like to think I am a success story, but the truth is I had a good idea and then surrounded myself with incredibly professional folks. Fortunately for me, Debra is one of those folks. She absolutely cares about my vision and is incredibly responsive to all of my insurance related needs. If you're looking for insurance, or perhaps considering changing agencies, I can wholeheartedly recommend Debra Jackson at the Trident Agency!
Eric R.
Burbank, CA
Always have great service from The Trident Agency for all of my insurance needs…from home to auto to earthquake to umbrella policies!! My one stop shop!! Best prices along with excellent service by answering all of my questions!!! I really sleep comfortable knowing that my family and home and my possessions are safe and secure through Debra and Travis. I even had Travis give me auto insurance for one day while sitting at AAA to purchase tags for my daughter's car that had the insurance lapse on. Trying to sell the vehicle, with expired tags is against the law. After becoming aware of that, Travis had done all necessary steps to get the tags in my hand and the vehicle sold, all within 2.5 hours! Exceptional service!!!!
Ken F.
Woodland Hills, CA
I have found that Debra Jackson and her agency Trident is a caring, client centered agency. They help their clients with issues relating to home and auto insurance as well as business insurance.
I highly recommend Debra and her staff
Barry C
Canoga Park, CA
foy insurance has been our broker for almost 10 years. They have saved us money on our E&O, GL, H&W and commercial policies almost every year. Customer services, quality products and reasonable pricing; they say you can't get all three at once; but Foy makes you feel like you did.
H.H
CEO
If you really want to protect your business, want someone who understands your industry, and if you want a broker that is there for you and will stand by your side during your claims process, you need to call jesse and his team.
D.R. Jr.
Owner
Prompt and professional. I quickly found out that their team knew my industry like no other. They quoted me for coverage that fit my needs and saved me thousands of dollars a year. Initially, I didn't want to switch my insurance because it felt like a hassle but I started to consider my previous insurance situation, my agent never even called me when I had a claim.
D.D.
Co-Owner
Their team knew our industry extremely well. Once they reviewed my coverage, they found many gaps in my current insurance. Now I have an insurance program that I know covers our business. Sleeping a lot better at night…
B.F.
President
Foy & Associates set me up with great insurance & great pricing. At the same time providing excellent customer service and professionalism
J.P.
Program Manager